HOW CAN I GET THE MOST OUT OF MY COURSE?
Take the courses in sequence as the tools build on each other throughout the program. Scroll down your course page to see all 5 classes.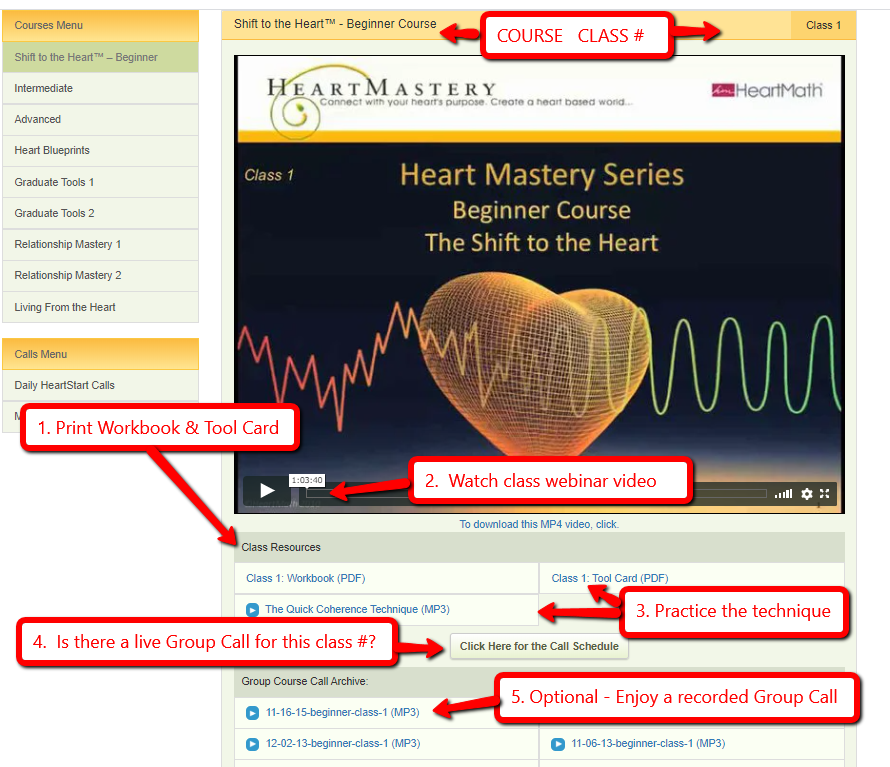 For each class:
Print out the class Workbook and Tool Card. (Workbooks can be printed 2 to a page and on both sides, in black and white, to save space and resources.)
Watch the webinar video, using your workbook for the exercises and notes.
Practice the class technique, with the printed Tool Card and/or MP3 audio tool to guide you.
Check Events to see if there is a live Group Coaching Call scheduled for that Class # and attend live or
Enjoy listening to one of the Group Coaching Call recordings.
HOW TO ACCESS THE CALLS:
Go to Events on the gold navigation bar. When logged in, you will see the schedule and phone number and access code for courses and calls you have purchased. If you are on a mobile device, clicking on a phone number will dial the number AND the access code for you, with one click!
Our conference call lines can be accessed by
THE HEARTMASTERY SHOP –
WHERE SHOULD I START? WHICH COURSE?
The tools in each course build on each other, so they are to be taken sequentially, beginning with the Shift to the Heart Course, then Intermediate, Advanced, Heart Blueprints, Graduate Tools 1 and 2, Relationship Mastery 1 and 2 before taking Living From the Heart.
EXCEPTION: If you have already learned

ALL of the Shift to the Heart Beginner Course techniques (Heart-Focused Breathing, Quick Coherence, Freeze Frame, Inner Ease and the Depletion to Renewal Grid techniques) from a HeartMath Resilience Coaching or Training program, then you will be eligible to enter at the Intermediate Course.
ALL of the Intermediate Course techniques (Energy Accounting, Heart Mapping®, Coherent Communication™, and Attitude Breathing™ techniques) from a HeartMath Resilience Coaching or Training program, you are eligible to enter at the Advanced Course level.
COURSES:
The 8 Core Courses in the https://heartmastery.com/shop are to be taken in the order listed.
Each Course has 5 one-hour webinar videos, each video with a printable Workbook and Tool Card.
There are also 4 Group Coaching Calls either live or recorded, to anchor and expand the learning, ask questions and practice the tools.
All course materials (video MP4s, audio MP3s and printable PDF files) are mobile friendly and downloadable for you to keep forever. **You have 60 days from the day of registration to view and/or download them and keep them forever.**
60 days of Daily HeartStart Calls is a bonus included in each course for group practice of the tools in various combinations and applications.
DAILY HEARTSTART CALLS:
Live calls Monday through Friday from 8:30am to about 9:00am Pacific Time and a vast archive of previously recorded calls.
For further description: https://heartmastery.com/subscriptions/daily-heartstart-calls
60 days of Daily HeartStart Calls comes with each course.
If purchased separately from a course, as a monthly subscription, the subscription will renew and charge monthly until you cancel it (like a magazine subscription).
MENTORING CALLS: (Available only to Licensed HeartMath® clinicians, Providers, Trainers or Coaches)
Licensed HeartMath professionals come together with their peers in an open forum with our team of experts to ask questions and share about any aspect of their HeartMath personal and professional work.
A monthly subscription of weekly 60-minute live calls includes access to a vast archive of those recordings. Held Tuesdays at 1:30pm Pacific Time.
If members cannot attend, questions and topics can be submitted for discussion, recording and playback.
MONTHLY PRIVATE COACHING
This monthly subscription for 30-minute or 60-minute private coaching sessions is with a Licensed HeartMath Coach who has also completed the entire HeartMastery curriculum.
TECHNOLOGY: INNER BALANCE and EMWAVE DEVICES and PROGRAMS
Technology purchase is not required to participate in HeartMastery. The devices can help give you focus and feedback on your coherence level while you practice the tools you learn in HeartMastery.
To purchase or compare the technology offerings that best suit your needs go to https://store.heartmath.com/tech/
TECHNICAL ASSISTANCE
WHAT IF I DON'T KNOW MY PASSWORD?
Start your login with your email address
Click the "Forgot password", and a temporary password will be sent to that email address from

[email protected]

So watch for it in spam, junk and Promotions folders. Then when you log in, go to Account and enter a password of your choice.
TIPS FOR DOWNLOADING COURSE MATERIALS
First create HeartMastery Course folders in your computer or mobile device library for your Workbook PDF files, Mp4 video files, and mp3 audio files so they are easy to find and enjoy.
For best performance we recommend these internet browsers: Safari, Firefox, or Chrome.
Downloading audio files requires software that is capable of playing MP3 audio files.
Downloading video files requires software that is capable of playing MP4 video files.
If you have never downloaded materials before, your particular combination of operating system and web browser versions may affect how you download. You may find help tailored to your unique situation from an internet search or an expert who can evaluate your system.
For Mac users: A Mac uses the same instructions listed below the webinar except when you right click on the Mac you hit the "control" button while also clicking the mouse to get the option to "save as"
Download one webinar at a time as they are large files that can take a while, depending on your internet connection.
MORE QUESTIONS? Let us know at https://heartmastery.com/contact